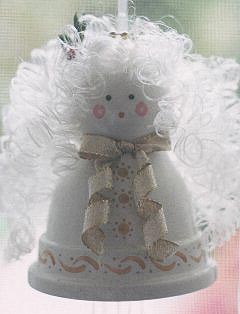 Heaven Sent
Use a 3 or 4" flower pot and the appropriate size bead head glued together. Paint, decorate, add a ribbon for hanging through the flower pot and bead head, use a jingle bell to stop it from pulling through. Tie a ribbon around the neck to hide the place where the flower pot and bead come together.
Doll hair, sparkly ribbon, a sprig of holly and a few beads for a halo....perfect heaven sent angel!
Same idea....Frosty the Snowman!